by Bill Kuntz, M.S., LSCW, LCP, BCPCC
Helping pastors and Christian leaders be true to themselves and authentic in relationships can release them to be all that God created them to be. They are often over-extended, pressured to look perfect, and in danger of burning out. Are you equipped to walk along side these leaders and hold them accountable? Do you have the tools and the approach you need to coach these leaders toward greatness while helping them take good care of themselves and their families?
If you are coaching leaders or pastors, you are in a position to impact many lives. Good coaches help their clients design a balanced future. They promote positive daily disciplines. Effective coaching involves asking lots of powerful questions—questions like:
What would a balanced life look like for you? How would it feel? When have you experienced a sense of balance in the past and to what degree? What tends to push you off balance?
What do you need to say 'no' to? What or who steals your time?
If you were to observe your life from God's perspective what might you notice is missing?
Have you made decisions or developed habits that you need to rethink? Have you committed yourself to something that isn't consistent with your calling or your values?
What action or actions must you make on a daily basis if you are truly committed to reaching your goals? Are your goals in alignment with your gifts?
If Jesus returned tomorrow what difficult questions might He ask you? Are you justifying a sin or some counterproductive habit in your life?
What could you accomplish if you got serious about weeding out distractions, focusing on God's will, and exercising enough self-discipline to stay on track?
What do you need to do for yourself to maintain health, restfulness, and positive energy? Are you getting enough alone time, enough devotional time with God, enough couple time with your spouse, enough friend time with two or three friends, enough family time, enough fellowship/community/worship time, and enough unstructured time for creativity and spontaneous self-expression?
The Wheel of Life exercise (see below) can have a confrontational impact on your client. Having your client chart on paper how they perceive they are doing in each of the basic aspects of life can produce a great deal of insight and motivation. Seeing where our lives out of balance, and which responsibilities (to God, self, and others) are being neglected, can spur us toward corrective measures.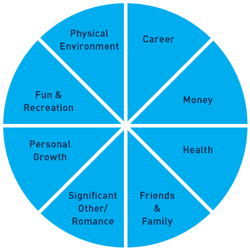 You may want to replace some of the above categories or add other categories like: "Time with God" / "Time with Spouse" / "Time with Children" / etc.
After having your client rate himself using a tool like the Wheel of Life, ask:
What is your hub?
Where is your tire flat or over-inflated?
Are there parts missing?
Does some unmet need tend to sabotage your journey—causing you to "spin your wheels," or "sublimate" by working too hard or trying to overcompensate?
What do you find yourself daydreaming about?
Is there a legitimate, obtainable unmet need that deserves time in your weekly schedule?
When we coach pastors, we must sometimes help them ask themselves the questions they don't have internal permission to ask:
Are you coaching a codependent caregiver who has such a need to help others that (s)he gets lost in others' lives and neglects her/his own life?
Is your coaching client too responsible or overly rigid? What might it look like for your client to reconnect with his inner child?
Does your client value his own needs? Does she nourish herself? Does he validate himself as God's child? Does it feel like you are being expected to push your client to go higher faster, and stronger, ad nauseam? Many pastors and Christian leaders get caught up in the performance trap—trying to meet deadlines, fund programs, write great sermons, produce church growth, and jump over buildings in a single bound! Work at slowing down the "human doing" and connecting with the "human being"—the leader's inner child which may feel neglected or even invisible.
What unhealthy script or parental injunction is your coaching client still attempting to fulfill from childhood?
Does your client have an inner critic that continually whispers, "You aren't good enough," "You're not doing enough," or "You must prove (and continually reprove) yourself?" Is there guilt or shame for some secret sin or a skeleton from the past that drives your client to compensate by trying to be more than God is asking him or her to be?
Transactional analysis identified the following common parental injunctions or drivers: "be perfect," "hurry up," "please others," and "try hard." What others do you see in your practice? How about "save the world," "don't let your weakness show," and "always have all the answers."
Balance for busy professionals, especially for Christian leaders, may involve saying "no" not only to external demands, but also to those insidious, unrelenting internal demands that are continually pushing for "more" and "better." If we can help our clients gain insight into what drives them that isn't from God, they will be freer to hear and respond to God's true voice. His voice starts with, "I love you, my child… there is nothing you must do to earn my love. Rest in me and feel the ease of my grace and forgiveness. Be still and know that I AM God (and you are not)."
Accepting our limitations is sometimes what frees us to live beyond them. Receiving the freedom that Christ died to give us releases endless potential and possibilities in us and feels so much better than the neurotic, ego-driven need to prove ourselves "good enough." When I know it is truly okay to "just be me" and to enjoy each day God gives, then God's grace and love can flow more freely through me into the lives I touch.
Coaching pastors and other gifted Christian leaders to be all they can be often feels more like affirming them for who they are. The Holy Spirit is often welling up within God's leaders to communicate His great love for His people, as coaches we want to cooperate with this process. We want to encourage them to humbly serve others without trying to push the river of God. Leaders who follow Jesus must protect their time, nurture their souls, and walk with God without falling into the many traps the Enemy has set. Traps such as over-work, codependency, and pride. Ego-focused goals, denying legitimate personal needs, and super-human thinking are usually the precursors to burn-out and can sometimes push a leader off the precipice into serious sin.
Coach pastors to delegate rather than try to be a one-man-act. I remember my grandfather saying, "If you want something done right, do it yourself." While this had a nice ring to it, I quickly learned how foolish it was if lived out to the extreme. Grandpa lost his eyesight late in life and would sometimes attempt dangerous repairs he had no business doing, rather than delegating, because he wanted them "done right!" There will always be tasks that your coaching client must do himself—for pastors this might be sermon preparation or communicating his vision. Some jobs are inappropriate to entrust to another person. However, effective leaders are usually very good at delegation. Great leaders have learned to draw out other leaders, and cultivate leadership skills in their volunteers and staff. One of the ways pastors can strengthen their staff, allowing them to grow, is to give each of them the freedom to work through their ministry challenges—not by micro-managing them. Wise pastors understand th at delegating generally increases productivity. Burn-out can happen when a pastor has not developed this ability to recruit capable people, assign tasks, and inspire others to step into increasing levels of responsibility and leadership.
Busy leaders need balance. They need friends, fun, leisure, regular quiet times, and the ability to say no. They are more likely to find this balance when they have regular meetings and accountability with a coach who sees and relates to the real person inside—not just the roles he plays.
Habakkuk 2:2 reads: "Write the vision; make it plain on tablets, so he may run who reads it."
A pastor's vision, communicated plainly, will energize and empower God's people. And every pastor must allow room for rest and recreation so that he can run his own race without feeling compelled to run someone else's race for him.
A coach's vision often involves seeing the heart of a leader and drawing out his greatness by helping him release demands and desires that deplete his energy. We serve a God who loves us so much that he has set us free—free to be and free to play. Every great leader must take time to rest in the Father's loving embrace. And we as coaches must model as well as teach these principles of balance, authenticity, grace, and peace.
Bill Kuntz, M.S., LCSW, LCP, BCPCC, is a sought-after Christian Leadership Coach. Find out more by visiting his Web site at www.RealLeadersCoaching.com.